Posts for: October, 2014
By Michael W Shields DDS
October 29, 2014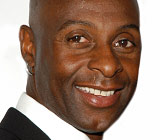 Athletic activity can boost your health, but many sports also carry some risk — especially to the teeth. This is something NFL wide receiver Jerry Rice well knows.
"Football can be brutal — injuries, including those to the face and mouth, are a common risk for any player," Rice noted in an interview with Dear Doctor magazine. In fact, Rice himself chipped a couple of teeth, which were repaired with crowns. "There wasn't a lot of focus on protecting your teeth in high school," Rice recalled.
You don't have to be a legend of the NFL to benefit from the type of high-quality mouthguard a dentist can make for you or your child. Consider that:
An athlete is 60 times more likely to suffer harm to the teeth when not wearing a mouthguard.
Mouthguards prevent an estimated 200,000 or more injuries each year.
Sports-related dental injuries account for more than 600,000 emergency room visits annually.
Each knocked-out tooth that is not properly preserved or replanted can cause lifetime dental costs of $10,000 to $20,000.
You and/or your child should wear a mouthguard if you participate in sports involving a ball, stick, puck, or physical contact with another player. Mouthguards should be used for practice as well as actual games.
It's also important to be aware that all mouthguards are not created equal. To get the highest level of protection and comfort, you'll want to have one custom-fitted and professionally made. This will involve a visit to our office so that we can make a precise model of your teeth that is used to create a custom guard. A properly fitted mouthguard is protective, comfortable, resilient, tear-resistant, odorless, tasteless and not bulky. It has excellent retention, fit, and sufficient thickness in critical areas.
If you are concerned about dental injuries or interested in learning more about mouthguards, please contact us today to schedule an appointment for a consultation. If you would like to read Dear Doctor's entire interview with Jerry Rice, please see "Jerry Rice." Dear Doctor also has more on "Athletic Mouthguards." and "An Introduction to Sports Injuries & Dentistry."
By Michael W Shields DDS
October 14, 2014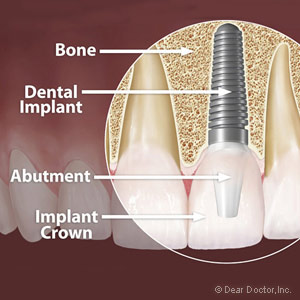 Dental implants are considered the premier option for tooth replacement. While all implant procedures follow the same general concept — a titanium post surgically inserted into the jawbone with an attached life-like crown — the installation process can vary.
From their earliest history, implants have usually been installed through a two-stage process. In the first stage, the surgeon inserts the titanium post in the bone and leaves it "submerged" below the gum level to protect it from oral bacteria and the effects of chewing and biting. About three months later after the bone attaches to the titanium (a process called osseointegration), the surgeon then performs the second stage by re-exposing the implant and attaching a temporary abutment and crown for the patient to wear while the permanent abutment and crown are fabricated and later attached in 2-6 weeks.
In recent years, advancements in materials and design have made possible a one-stage process that allows the implant to protrude above the gum line during osseointegration and shortens the process. After the initial three-month healing period, the implant is ready for "loading" with the permanent crown.
The choice between which of these two procedures should be used for your implants will first depend on the type of tooth being replaced. A front tooth benefits from the one-stage procedure for cosmetic reasons because the surgeon can install a temporary crown to the exposed abutment during osseointegration (as long as the temporary tooth isn't in functional contact with other teeth). An implant for a back tooth, on the other hand, doesn't have a large cosmetic demand so those one stage procedures usually end up with an exposed healing abutment but no temporary crown.
The strength of the bone is also a factor. Some bone tends to be softer, particularly in the back of the mouth. There's a chance the implant could move in this softer bone, adversely affecting the outcome. For this reason, the two-stage procedure can be the preferred approach for posterior teeth as it offers more protection from movement.
You can be sure we'll consider all these and other factors during your initial examination, and then advise you on the best approach. Above all, we want to make sure — whether a one-stage or a two-stage implant process — the result is a smile you can be proud of.
If you would like more information on dental implants, please contact us or schedule an appointment for a consultation. You can also learn more about this topic by reading the Dear Doctor magazine article "Staging Surgery in Implant Dentistry."