Posts for: August, 2014
By Michael W Shields DDS
August 20, 2014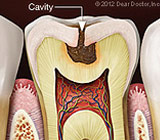 Think of a contagious disease and you may picture one of the great outbreaks of the past: the terrible flu epidemic of 1918, the ever-present threat of polio in the early 20th Century, and the ancient (and still widespread) danger of cholera in overcrowded urban areas. Or you may think of the common cold, a familiar contagious malady that's still very much with us. Yet there's one contagious disease you may not think of, but probably should: tooth decay.
Many people don't realize that tooth decay is contagious. But the fact is, decay bacteria can be passed between people like a bad cold — and it happens all the time.
Sugar usually gets the blame for tooth decay; a recent survey found that 81 percent of Americans say it's responsible for cavities. But sugar alone isn't the culprit. Cavities are actually caused by certain types of bacteria that cling to the teeth in the absence of proper oral hygiene. These bacteria process sugar from the foods we eat, and then secrete acidic byproducts that erode the hard enamel of the teeth. This causes the formation of the tiny holes we call cavities.
Children aren't born with S. Mutans. But studies show that most of them "catch" it from their caregivers — often, their parents. By the time they are two years old, over 80 percent of kids will have detectable levels of the bacteria. Whether or not they pick up harmful microorganisms — and how much they have — depends on the infectiousness of the strain, and on the caregiver's attention to oral hygiene.
How can you prevent the spread of decay-causing bacteria? Essentially, by limiting its transfer from your mouth to your baby's mouth. So don't "clean" a baby's pacifier by putting it in your mouth, and don't share utensils — for example, by tasting baby's food with his or her spoon. While it's ever so tempting, avoid kissing baby's lips, especially if there is a chance of transferring saliva. And don't even think of "pre-chewing" baby's food — no matter what some self-appointed health gurus may say.
There's still another way to limit the spread of decay-causing microorganisms: Make sure your own practice of oral hygiene is top-notch! Oral bacteria can spread not only from parents to babies, but also between adults. Maintaining good oral health means brushing and flossing every day, and getting regular check-ups: It's important for you, and for everyone you care about.
If you have questions about tooth decay prevention or oral hygiene care, please contact us or schedule an appointment for a consultation. You can read more in the Dear Doctor magazine articles "Tooth Decay" and "How to Help Your Child Develop the Best Habits for Oral Health."
By Michael W Shields DDS
August 05, 2014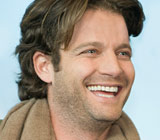 Nate Berkus, author, interior designer and host of his own television program, The Nate Berkus Show, is a consummate professional who has always focused on "helping others love the way they live," as he puts it. Berkus is known as one of America's most beloved go-to-guys for inspiration on the latest design trends. And then there is his captivating smile.
In an exclusive interview with Dear Doctor magazine, Berkus discusses his trademark smile. Unlike most people in Hollywood, his smile is totally natural — he never wore braces or had any cosmetic work. However, Berkus does give credit to his childhood dentist for the preventative healthcare he received as a young boy. Berkus states, "I'm grateful for having been given fluoride treatments and sealants as a child. Healthy habits should start at a young age."
As for his oral hygiene routine today, Berkus says he brushes his teeth at least two times a day, and sometimes three times a day. Berkus is also an avid "flosser" and follows the important flossing advice he learned from his dentist: "Floss the ones you want to keep."
In addition to his design expertise, Berkus is right on the mark with his opinions on oral hygiene. In fact, he inspired our office to put together the following list of facts and oral health tips:
The first step in improving your oral health is to learn good oral hygiene behavior. Simply put, to maintain optimal oral health, you must brush and floss properly so that you thoroughly remove the dental plaque.
The second step is a thorough evaluation system. We are a key part of this step. During your next office visit, we can conduct a thorough examination, review your brushing and flossing techniques, examine the health of your tongue and discuss any questions you have. We can also clean your teeth and ensure that you leave our offices confident with your new oral hygiene routine. And if you don't have an appointment, contact us today to schedule one.
To learn more about improving your oral hygiene, you can continue reading the Dear Doctor magazine article "Oral Hygiene Behavior - Dental Health For Life." And to read the entire interview with Nate Berkus, please see the article "Nate Berkus."